30th anniv graphic by Janna Jones

The Moscow Renaissance Fair is a two-day celebration of spring with live entertainment, food, and crafts for kids and adults of all ages.

Free admission.
No dogs, please.
Alcohol is not allowed in the park.
---
Moscow Renaissance Fair
Saturday May 6 and Sunday May 7, 2017
East City Park, Moscow, Idaho

---
2016 Renaissance Fair Royalty: Fritz Knorr and Jeanne McHale!



Photo by Erik Jacobson

---
We are very excited to announce that for the first time in its 43 year history, the Moscow Renaissance Fair will have a beer and wine garden! Bring your valid ID, you will not be allowed into the Garden without it. Moscow's own Rants & Raves Brewery will be the inaugurating vendor offering a variety of beverages. The beer garden will be open 12:00-6:00 p.m. on Saturday and 12:00-4:00 p.m. on Sunday.
---
The 2016 Renaissance Fair poster was revealed during the Moscow Food Co-op's April art show opening in the Co-opís deli gallery, artwork by Molly Klingler and design/layout by Jonathan Gradin. Congratulations to Molly and Jonathan!


Winning posters from this and past years will be on display at the Co-op deli gallery through May 11.
---
Moscow Renaissance Fair was the March recipient of the Moscow Food Co-op Dime in Time donation. Thanks to all who donated their bag and cup refunds!
---
We are gearing up for the 43rd annual Moscow Renaissance Fair with outstanding music and entertainment, wonderful food, and unique hand-crafted arts and crafts.

Admission is FREE to the public. The Moscow Renaissance Fair is a non-profit organization. We are self-supporting and accept no corporate sponsorships.

The Fair is held outside under the trees at East City Park, Third and Monroe Streets, the weekend of the first Sunday in May.

Craft booths operate 10:00 to 7:00 Saturday and 10:00 to 5:00 Sunday, rain or shine.

Two performance stages. Main Stage entertainment goes from 10:00 to 9:00 Saturday and 10:00 to 6:00 Sunday. Stage II 10:30 to 5:00 Saturday and Sunday.

All food booths are non-commercial, profits from which go to betterment of the community.

Watch or join in the parades and the public maypole dances. There will be lots of activities for children as well.

---
Support Your Local Renaissance Fair — volunteer opportunities are available both leading up to and at the fair. For information please contact the MRF President.

---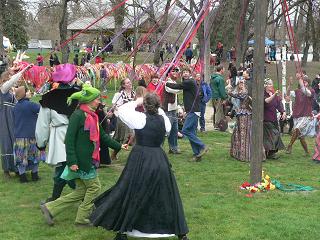 ~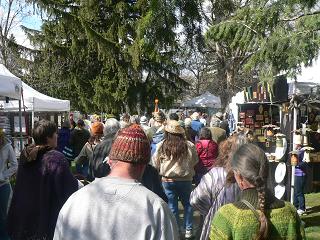 ~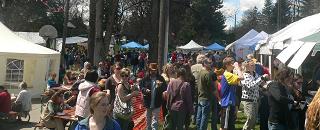 photos (c) 2011 David Hall
---
Always the weekend of the first Sunday in May.
---
Moscow Renaissance Fair | P.O. Box 8848 | Moscow, ID 83843 USA
moscowrenfair.org
facebook.com/moscowrenaissancefair
At the Fair
Peter Basoa Stage (2016)
Stage II (2016)
Craft booths (2016)
Food booths (2016)
Program (2016)
Map of the fair (2016)

Applications
Craft Vendors (2016)
Food Vendors (2016)
Poster contest (2016)
Main Stage (2016)
Kid's Market (2016)

The RenFair Story
* Ren Fair history
* Photo gallery
* Poster gallery
* Program gallery


* RenFair contacts
* Lodging information
* Thanks!
* Make a donation

* Vendor parking info